Description
Made for Speed
Handbuilt titanium and steel frame. All the practicality of a Brompton in a lightweight and performance oriented form. More than 3.3lbs lighter than the original bike.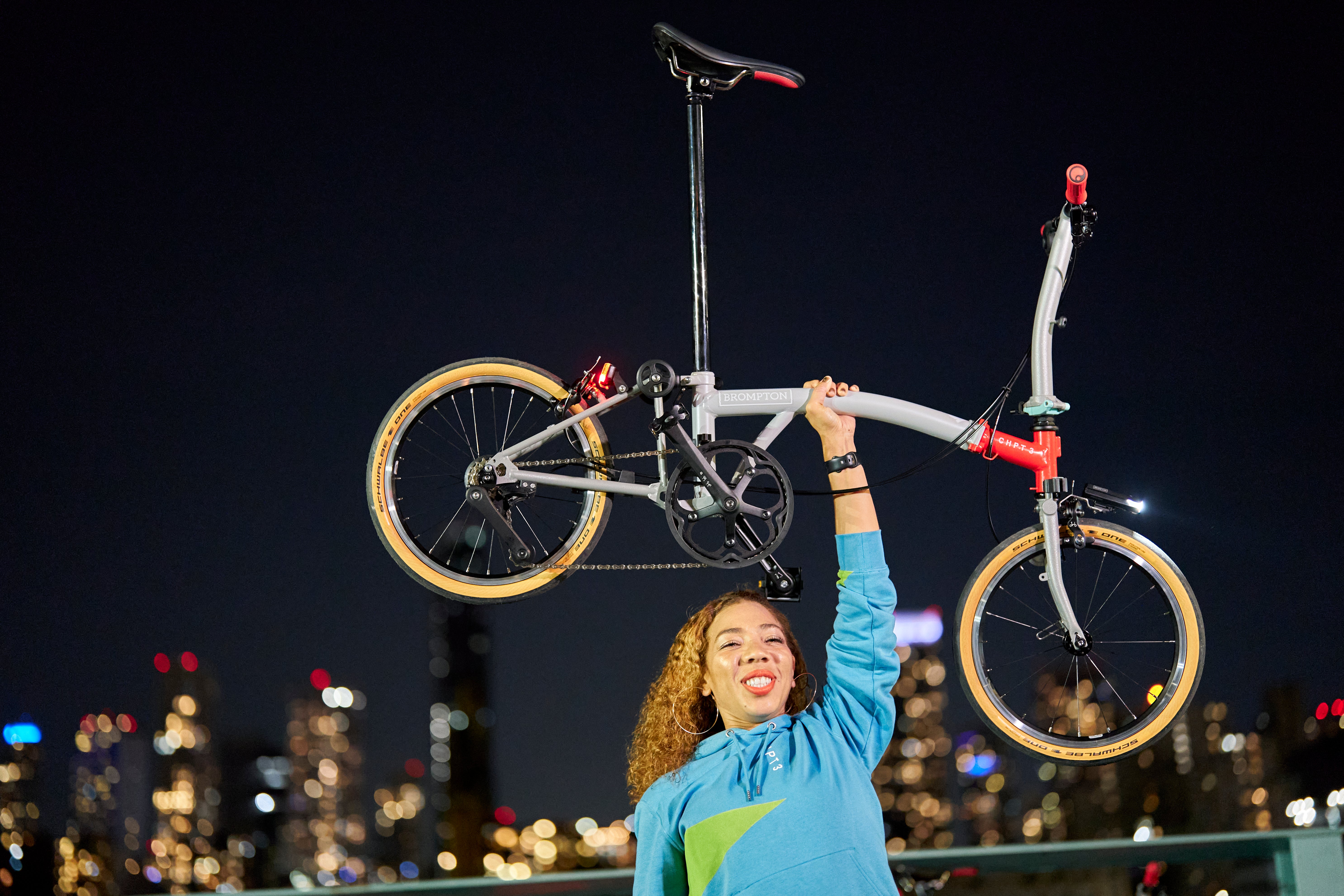 Fi'zi:k Terra Argo X5 Saddle
We chose this gravel-specific saddle for the superb vibration absorption, and the short nose. This gives you a stable, planted position. You can shift further forward too – the ergonomic design minimises pressure on any sensitive parts. Cleverly thought-out drainage channels make it brilliant for wet-weather riding.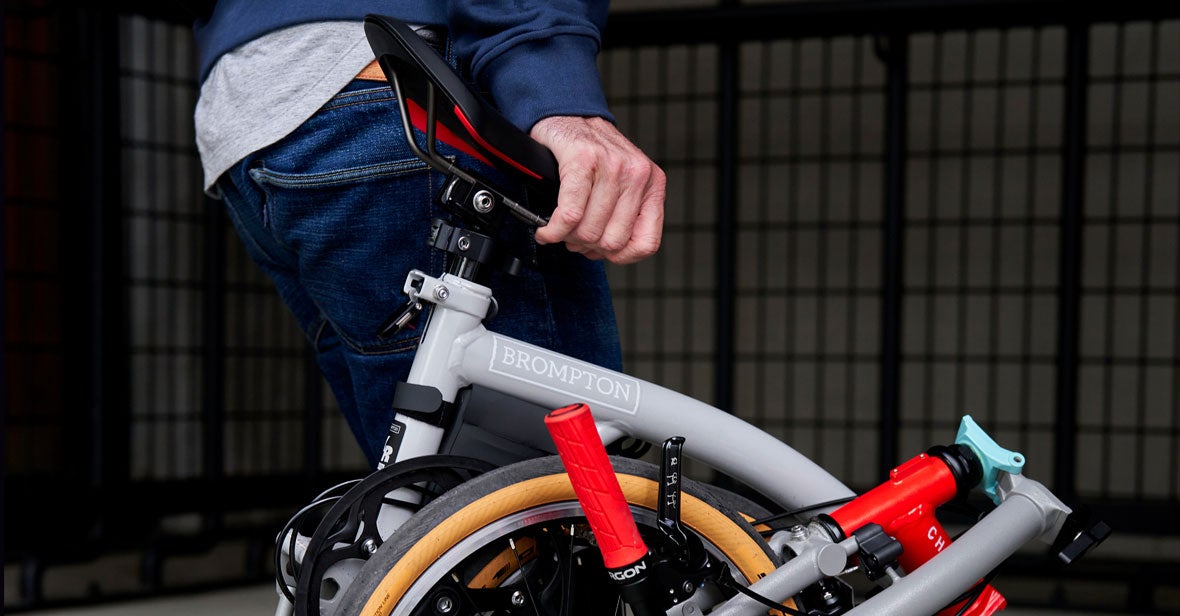 Superlight, compact gearing system
The Brompton 4-speed system* for rapid urban acceleration and nimble climbing ability. With a 60-gram derailleur, meticulously engineered to fit inside the narrow fold.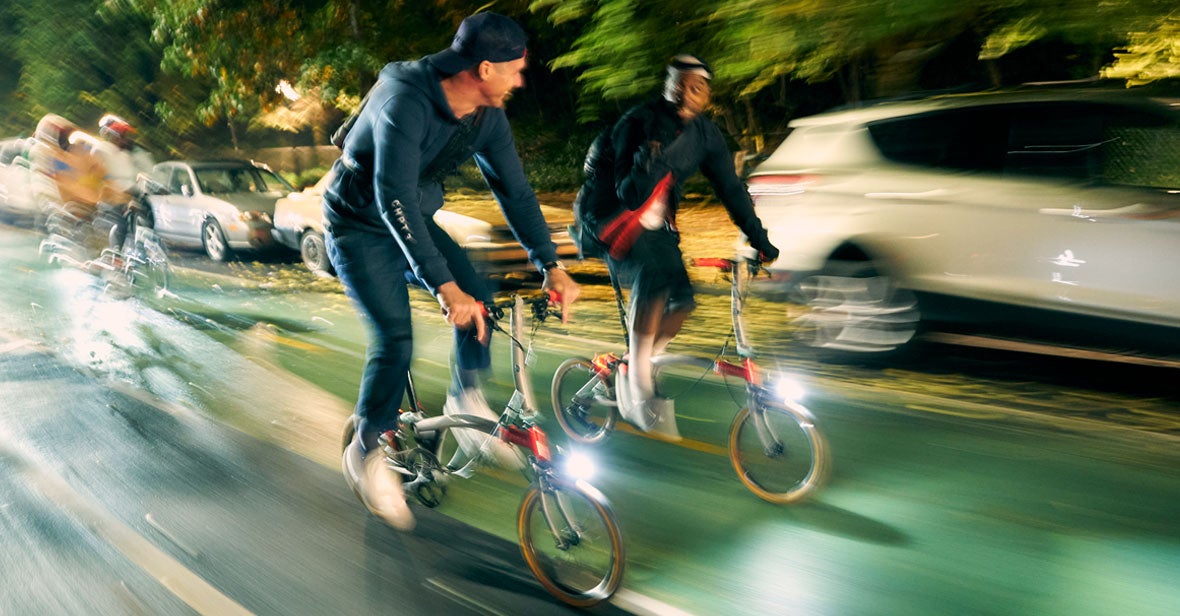 A fast and light wheelset
Designed and tested to stand up to daily use in the city, in all weathers. On superb tan-walled Schwalbe One tyres for optimal grip and maximum style. With weight-saving Tubilito inner tubes.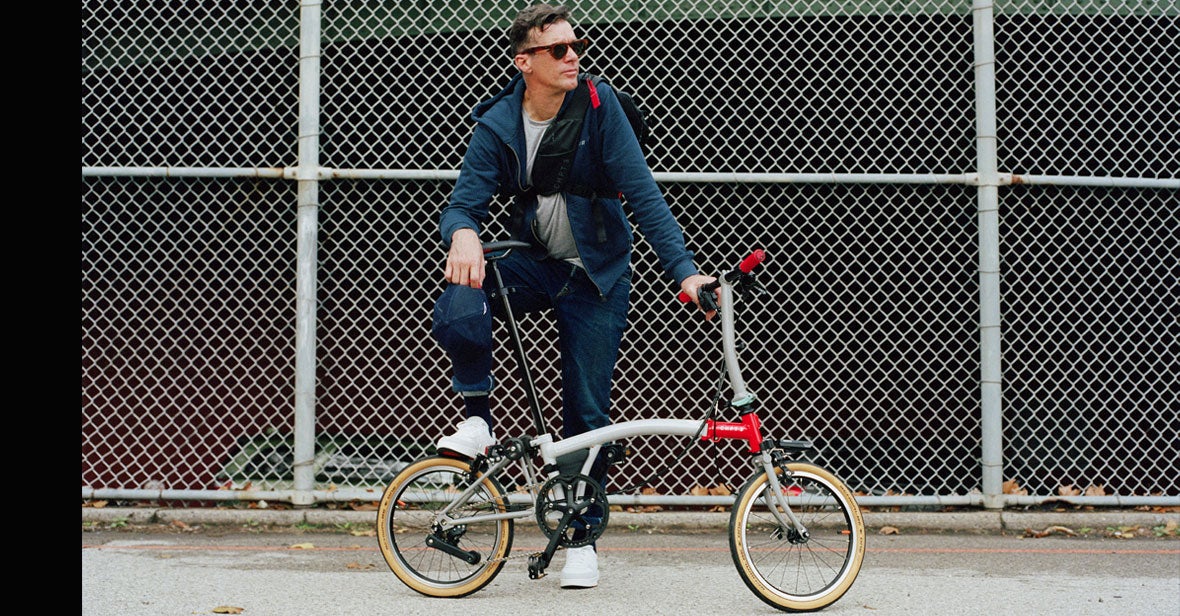 Brompton x CHPT3 Frame Pouch Bag
Your CHPT3 comes with a limited-edition Frame Pouch Bag. It's inspired by how the community use their Brompton x CHPT3 bikes – moving fast around the city, racing, heading out on long weekend rides. It's perfectly sized for a spare tube and tools. Just like the bike, it's minimalist, practical and brilliantly durable. In abrasion resistant Hypalon fabric with a welded, waterproof construction.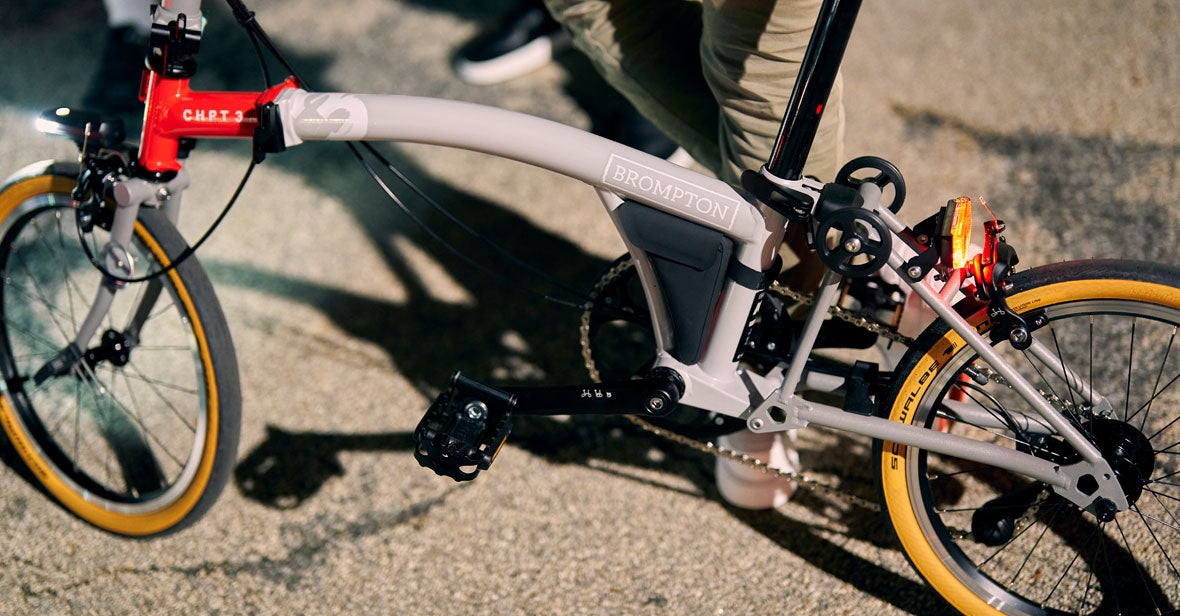 Brompton x CHPT3 4th Edition
A minimalist Brompton P Line, packed with high-performance details. We selected proven performance modifications such as titanium forks and rear triangle, assembled for speed without loss of comfort. The gearing is chosen to cover all bases, from quick sprints and sustained speed to steep climbs. All contact points between you and the bike, and the bike and the road deliver lightness, performance and comfort. We've even sourced light weight inner tubes, which means you can focus on avoiding the shortest route to reach your destination.
Features
Material
Titanium and Steel
Folded Size
25.3′ H' x 23" W x 10.6" D
Main Frame
Precision drawn heat-treated steel tubing with hand brazing and selected auto-brazed joints
Color
High-shine Gloss Winter Sky and textured Concrete Gray with Fire Red and Aqua Teal accents
Rear Frame
Superlight Advance rear frame made from Titanium with a replaceable hanger, redesigned suspension block and new 54mm roller wheels
Fork
Superlight Titanium fork with a threaded headset
Grips
Ergon GE1 Evo Slim – A premium ergonomic, rider-oriented grip with more comfort, precision and performance
Seatpost
Extended, Black (35″)
Seatclamp
Machined aluminium seat clamp and rear frame clip in anodised matt black finish
Hinge Clamps
Machined aluminium hinge clamp levers and plates anodised matt black finish
Pedals
Brompton Folding left hand and non-folding right-hand pedals
Drivetrain
Brompton 4 speed drivetrain, 163% range
Number of gears
4 Speed – Urban
Chainset
Advance chain tensioner with replaceable hanger mounting
Bottom Bracket
Square taper bottom bracket
Headset
Superlight headset
Shifters
Brompton 4 speed trigger shifter
Sprockets
11-13-15-18 Tooth
Derailleur
Patent-pending direct mount 4 speed derailleur
Rear Wheel
Lightweight rim, double-butted spokes and aluminium hub body with sealed bearings, newly developed 4 speed freehub body and hex key axle
Front Wheel
Superlight 4 speed rear wheel
Tires
Schwalbe One Tanwall – Developed specifically for the CHPT3 bike with class leading grip, weight and rolling speed
Tubes
Tubolito lightweight inner tubes
Brakes
Dual Pivot Calipers
Front Carrier
Not included
Pouch
Each bike comes with a limited-edition CHPT3 x Brompton Frame Pouch Bag, The frame pouch bag has been designed to fit securely inside the triangle on the bikes' mainframe.